Well, here I sit. Waiting for my driver to come pick me up and take me to the airport. My destination, "Spirit Bear Lodge". The lodge is located in the heart of the Great Bear Rainforest, BC, Canada, in the community of Klemtu, the home of the Kitasoo people on Swindle Island. The Lodge is a community-based ecotourism venture owned and operated by the Kitasoo / Xaixais First Nation.
The ancient Great Bear Rainforest is one of the largest tracts of temperate rainforest left in the world (2 million hectares), and is home to thousands of species of plants, birds and animals.
In this forest stand 1,000-year-old cedar trees and 90-metre tall Sitka spruce trees. Rich salmon streams weave through valley bottoms that provide food for magnificent creatures such as orcas, humpback whales, eagles, coastal wolves, black bears, brown (grizzly) bears, and the rare Kermode (Spirit) bear.
For those that do not know what a Spirit Bear is, allow me to explain. The Spirit Bear is one of the rarest animals in the world. It is truly a transformative experience to spend time in one's presence.
Current population estimates are under review and vary from 50 to 150 individuals. This elusive animal is only found in a small portion of the Great Bear Rainforest. Kitasoo/Xai'xais territory is home to the largest proportion of the spirit bear population and the only Spirit Bear conservancy.
Spirit bears are rare white-coated black bears (Ursus americanus kermodei) that live in the coastal temperate rainforests of Northwest British Columbia. Their striking colour is caused by an uncommon recessive genetic trait. They are not a unique species or subspecies, but a unique colouration of the coastal British Columbian black bear subspecies kermodei. This rare white- or cream-coated black bears whose colouration is caused by a genetic trait that is uncommon within coastal black bears. Their entire coat is white, from the roots to the tips of their hair. However, they are not albinos and as a result have dark eyes and noses similar to black-coated black bears.
Their unique colouration is caused by a rare variation at the Mc1r gene (melanocortin 1 receptor), which is involved in melanin production, or the pigment responsible for skin, hair and eye colour. This is the same gene that controls for red hair in humans and blond coats in Labrador retrievers.
Notably, spirit bears are a unique colour phase of the U. americanus kermodei subspecies, not a separate species or subspecies themselves. This means that they can interbreed with black-coated black bears. Genetic studies have revealed that the white coat colouration of spirit bears is recessive to black-coated individuals. As such, both parents must carry a copy of the mutated gene in order for a white cub to be born. Accordingly, white spirit bear or black-coated bear parents can give birth to white spirit bear cubs, as long as the black-coated parent is carrying a copy of the mutated gene.
At full size, spirit bears weigh about 80–200 kg, with females weighing less than males. They measure 60–90 cm at the shoulder and are approximately 120–190 cm long. Spirit bears can live for approximately 25 years in the wild.
Our trip began from Vancouver's South Terminal where we hoped on a regional flight that took us 90 minutes north to Bella Bella. The flight took us over some of the most incredible BC coastal views. After a quick ride to the docks in Bella Bella, it was off on a boat that took us through the winding waterways north to our home for the next four nights, the Spirit Bear Lodge in Klemtu.
Spirit Bear Lodge is a welcoming and comfortable place to lay your head after a day full of exploration and adventure in British Columbia's Great Bear Rainforest.

Architecturally, the exterior of the Lodge pays homage to the traditional long houses built by west coast First Nations. Inside, the atmosphere is modern and relaxing with all the comforts of home.

After a day of wildlife, culture and adventure, relax with a glass of wine or craft beer and delicious après on the ocean view deck or in the cozy lounge area of the "Great Room". Dinner is a communal experience where we enjoyed the delectable meals created by a talented culinary team and share stories with each other.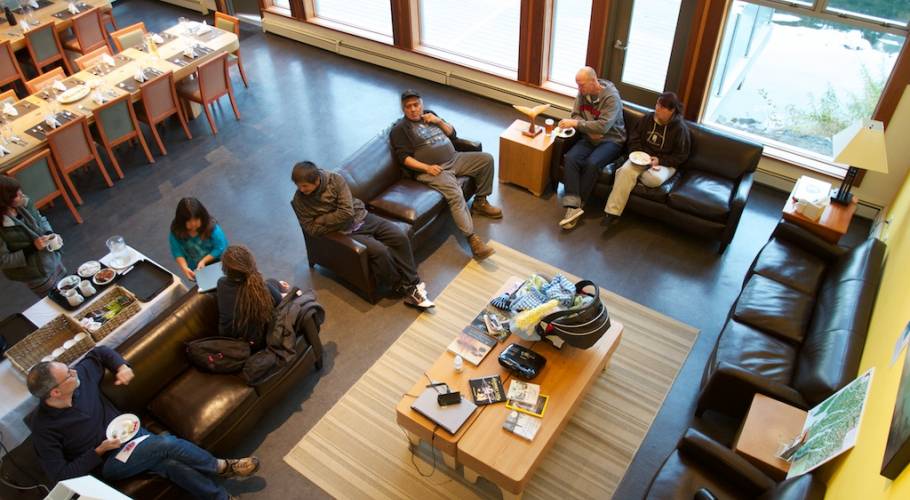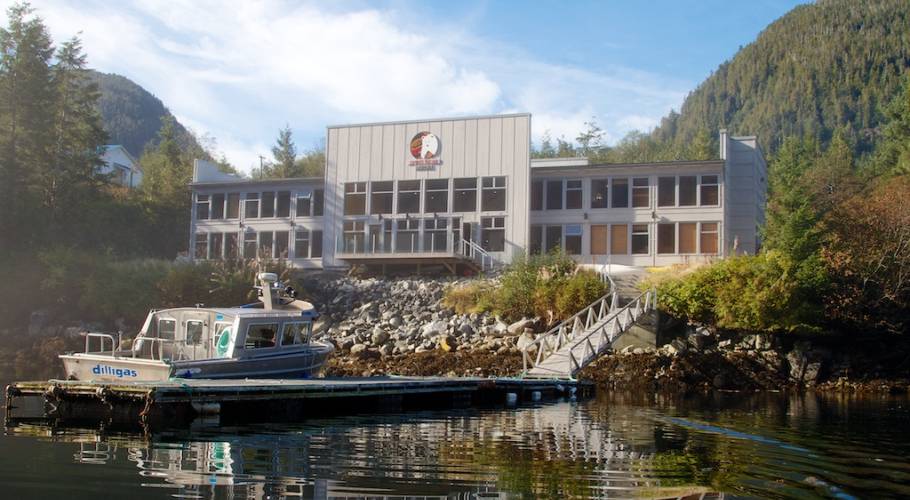 We left the lodge after breakfast on our first day. Eager to photograph any of the wildlife on land and in the water. Our target species list was long. Bear species on our list were Black, Grizzly and Spirit Bear. Then there are the Coastal Wolves that are always a possibility. For bird photographers there is the Bald Eagles, Osprey, Harlequin Ducks and Pacific Loons. And we had to keep an eye out for Humpback Whales and Orca Pods.
The first day started off slow. We followed a few Humpback Whales for awhile and then went to one of the estuary locations where there was a good chance to see either Black Bears or Grizzly Bears… and with the possibility of Black Bear sightings, there is always a possibility of seeing . Spirit Bear.
We couldn't be disappointed by being able to photograph Grizzly Bear. It is always awesome to see them in the wild. But the Spirit Bear eluded us on day one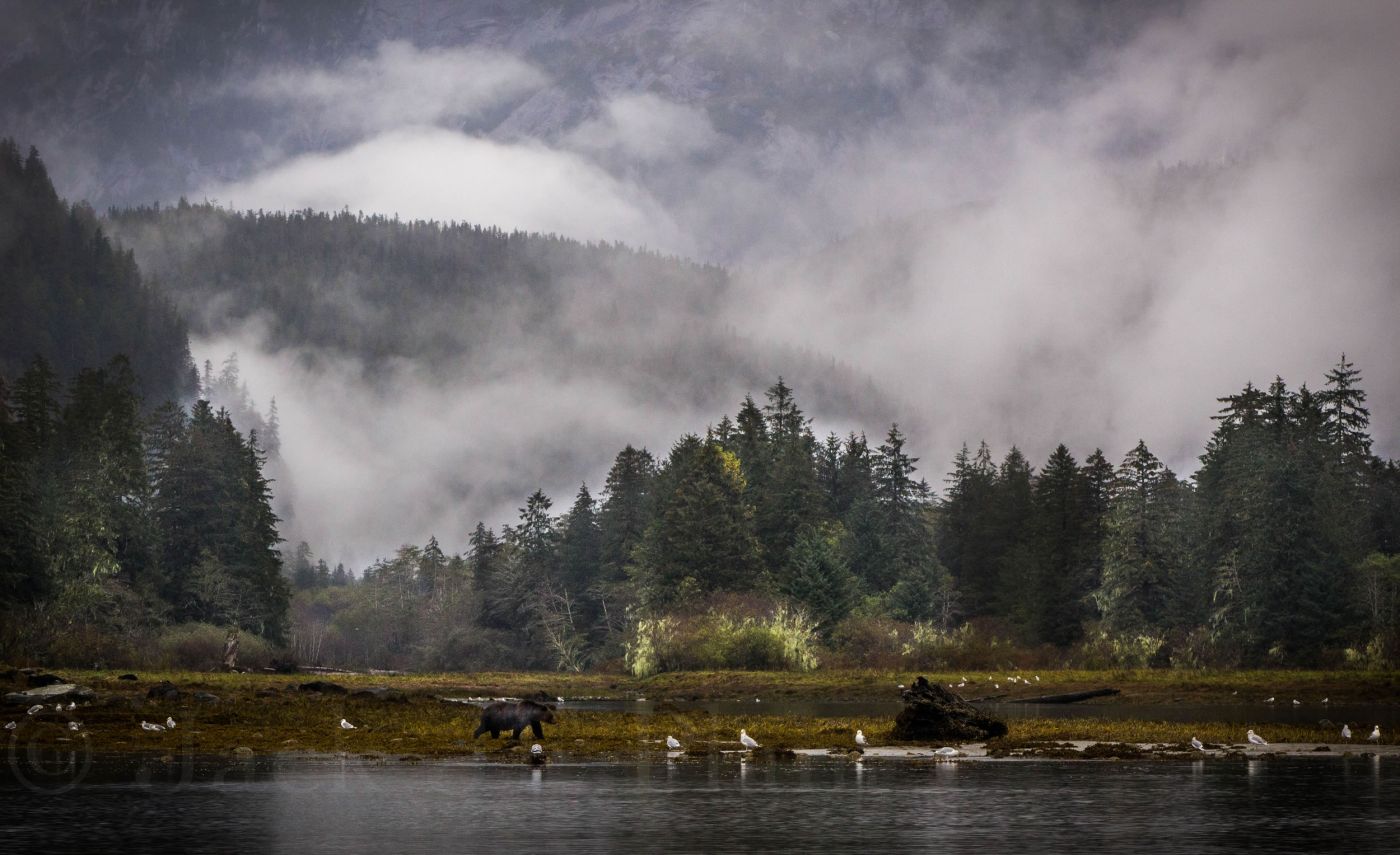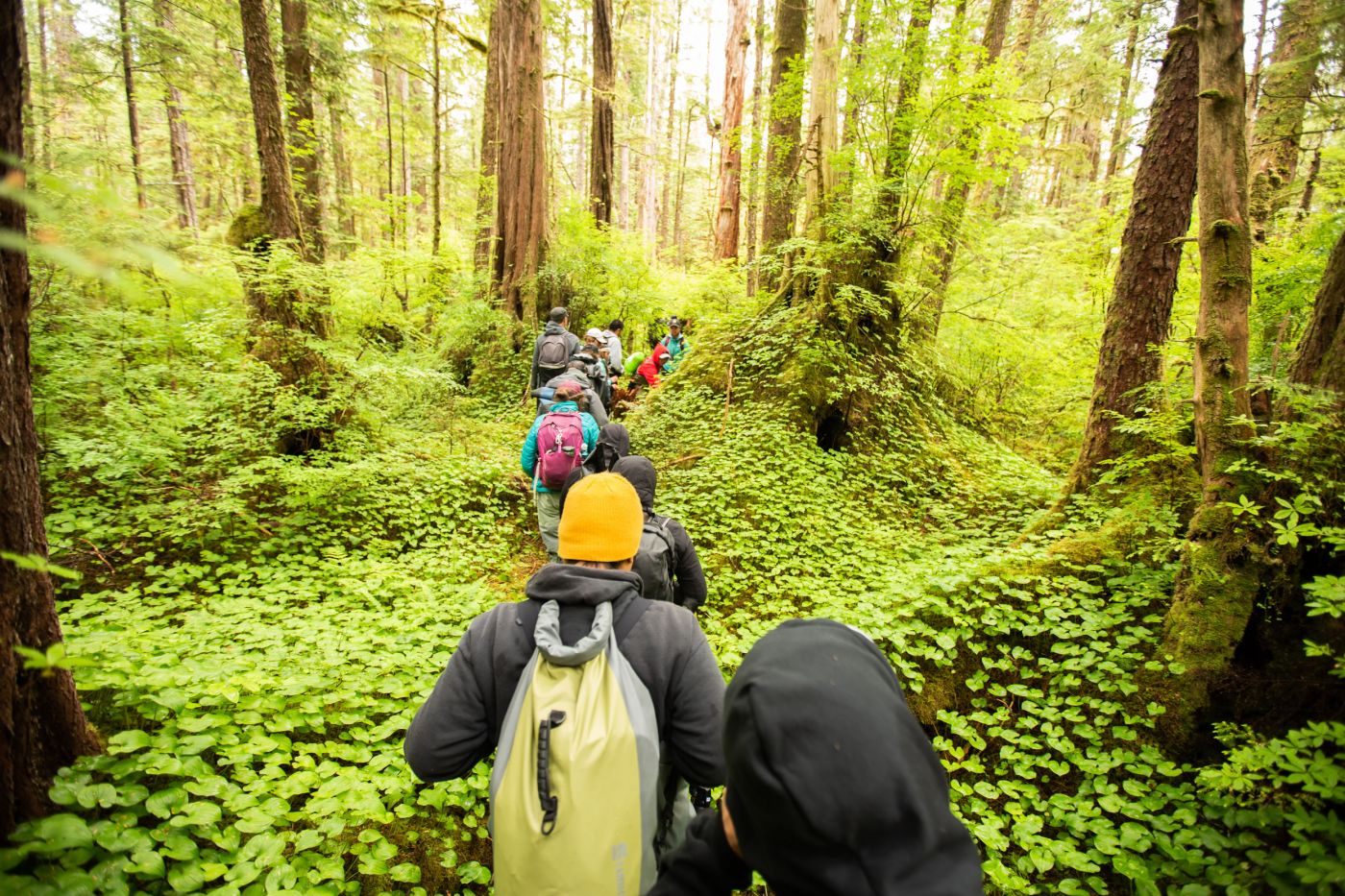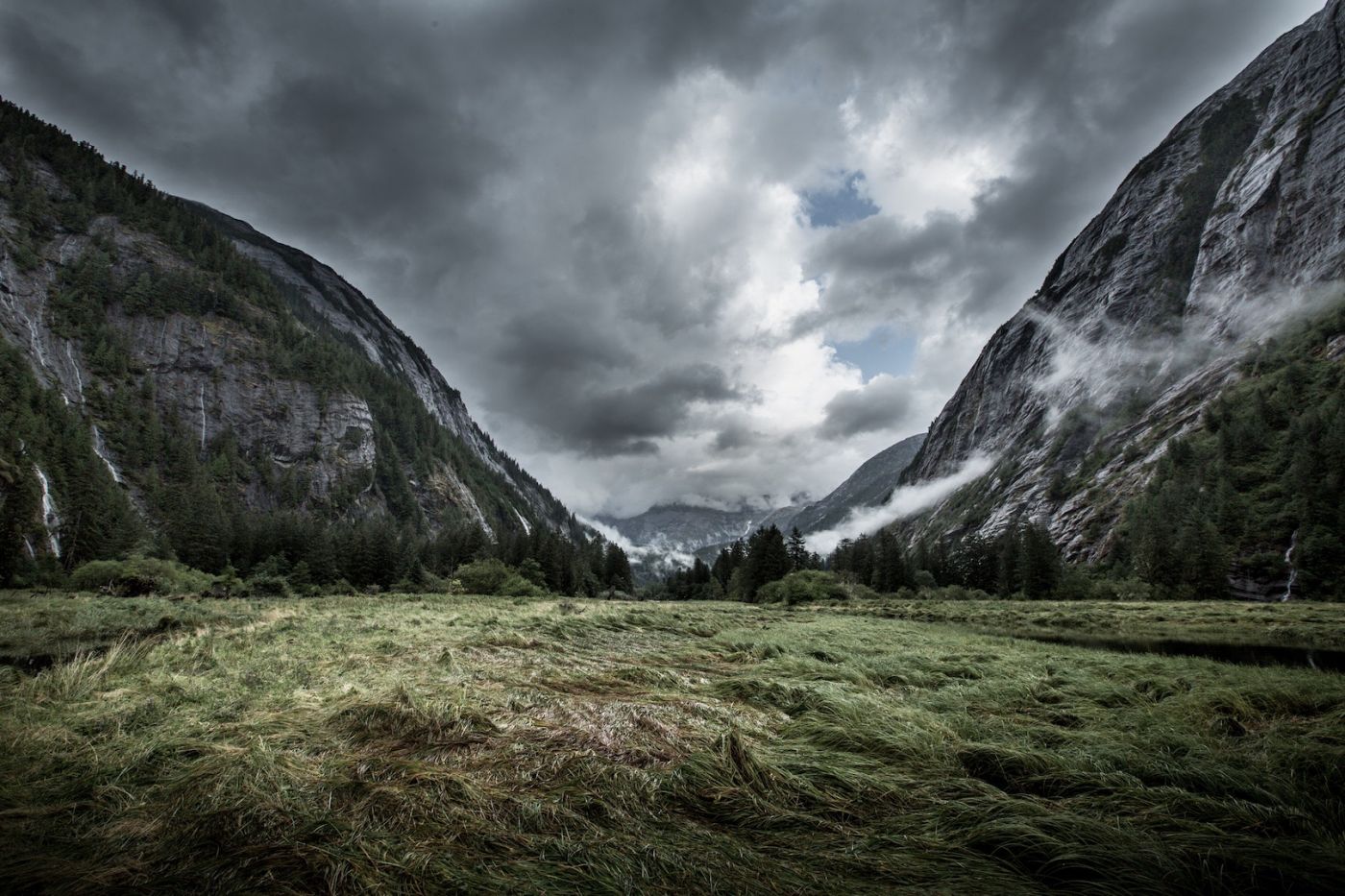 Day two started out with in a beautiful creek setting in the Rainforest. We had a black bear with us for half of our time in this gorgeous setting. Photographing a black bear in a salmon spawning river was a very cool experience. Again, who could complain with such great photographic opportunities. But, this is one of the prime Spirit Bear locations si far this year.
To spend the whole day in this river system, and not see a Spirit Bear where others had the previous two days, well, let's just say I was quietly wondering if we were going to see a Spirit Bear.
On day three we headed out with a renewed enthusiasm. We went to an Estuary that I had seen in photos before I Sent to the lodge. Not long after we got there we spotted a bear running off in the distance. We hoped in our zodiacs and went over to the side of the estuary where we saw the bear running. What we didn't know was that it was a mother Grizzly bear and her three cubs. The three cubs were less than a year old. We followed the bears down the rivers edge for quite awhile.
Our experience ended with Mom going for a swim and then taking the cubs into the cover of trees to nurse them.
We returned to the lodge excited to discuss our day with others in the lodge. Our enthusiasm however was quickly deflated when the group that went to the area we went to the day before started telling us that they spent the whole day with a Spirit Bear in the creek in the rainforest.
I could see the disappointment rush over the faces of the group that was with me. But we rallied together at dinner and discussed how we need to stay positive and just keep being dedicated to the task.
Click on the images above to see them larger
What the group wasn't aware of is that I had gone to the Lodge Team and Guides and asked if there was any way we could go back to that creek area for one final chance to see the Spirit Bear. We compromised on what kind of experience we could create for our group on the last full day at the lodge. It was a solid compromise and would give us a chance to possibly see the Spirit Bear.
We woke on our last day and everyone was hopefully and positive. We gathered our gear together and hoped on our boat. It was one of those days that you couldn't have imagined would come together. Not just one of the most sought after species in the Pacific coastal waters graced us with their presence, but two elusive species graced us with their presence.
After we left the lodge we heard someone say there was Orca in the area. For over an hour we followed a small pod of Orca in front of a backdrop of beautiful mountains. As they started to leave our area we heard one of the other guides tell is they saw the spirit bear in the creek area.
As we pulled into the calm bay where the river flowed out of the mountains, there she appeared. This beautiful white bear that seemed so magical. She walked the shoreline at low tide. She would stop on occasion and pose for us, look around, giving us some great opportunities to compose the photographs in-camera. It was the perfect way to spend the last full day at the lodge.
On our last morning, we packed up all our gear and started to do the reverse trek home. But there was a Humpback Whale that had other ideas. He decided to allow us to follow him for almost two hours. Fin slaps, deep dives and bubble net feeding Humpback Whales was a great way yo end our time in Coastal British Columbia.
I would love to return here one day. If this kind of trip interests you, please reach out to me. Lets plan a return trip in the next couple of years. You can email me by clicking here
I hope to see you in Coastal British Columbia.
Kev