If you want to travel to a unique land that many will only ever read about in magazines? Do you like to capture people in traditional costumes, or visit working horse farms, maybe even photograph the 1000 year old tradition of eagle falconry on horseback that most people don't know even exists? How about chronicling the ancient festival called Naadam through your camera? If you said yes to any of these, this is a photography trip you should consider.
In addition to photographing nomadic cultures that have existed for hundreds and thousands of years, you will get to photograph mountain landscapes, mountain lakes, and if the skies co-operate, some of the darkest skies filled with more stars than you have ever seen.
Dates of this Tour are: July 4, 2017 to July 14, 2017 and a maximum of 10 people can attend this tour.
Tour Leader: Randy Wilson, Jennifer King and Kevin Allen Pepper.
Price for Workshop: $6495USD
Single Supplement: $650USD (note, this does not apply for our time with Eagle Hunter Family)
Deposits: Deposits are $1000USD and a balance is due on March 4, 2017
Included Services: Full-time services of your local English speaking guides, Photography guidance out in the field and optional daily editing sessions at our hotels and Ger camps, Sightseeing and entrance fees according to the program, Private transfers and transports (minivan with A/C with windows that can open in and around Ulaanbaatar; Russian minivans in Olgii), Domestic flights (15kg free luggage included), Twin share accommodation: centrally located good 3* hotel in Ulaanbaatar for 3 nights, tourist Ger camps for 5 nights, and 3 nights in nomadic Ger in Olgii, Meals as listed, Naadam Festival tickets and arrangements, 0.5L x 3 bottled water per day, Visa support invitation letter where applicable, 2 model for 1 day photo shooting with Mongolian costumes
Not Included: International Airfare/train tickets + Tax, Travel insurance, Visa fees (if applicable), Items of a personal nature such as laundry, drinks, camera or video fees at any sites etc., Tips for your guide and driver (discretionary), extra nights if required.
Photos From Previous workshops in Mongolia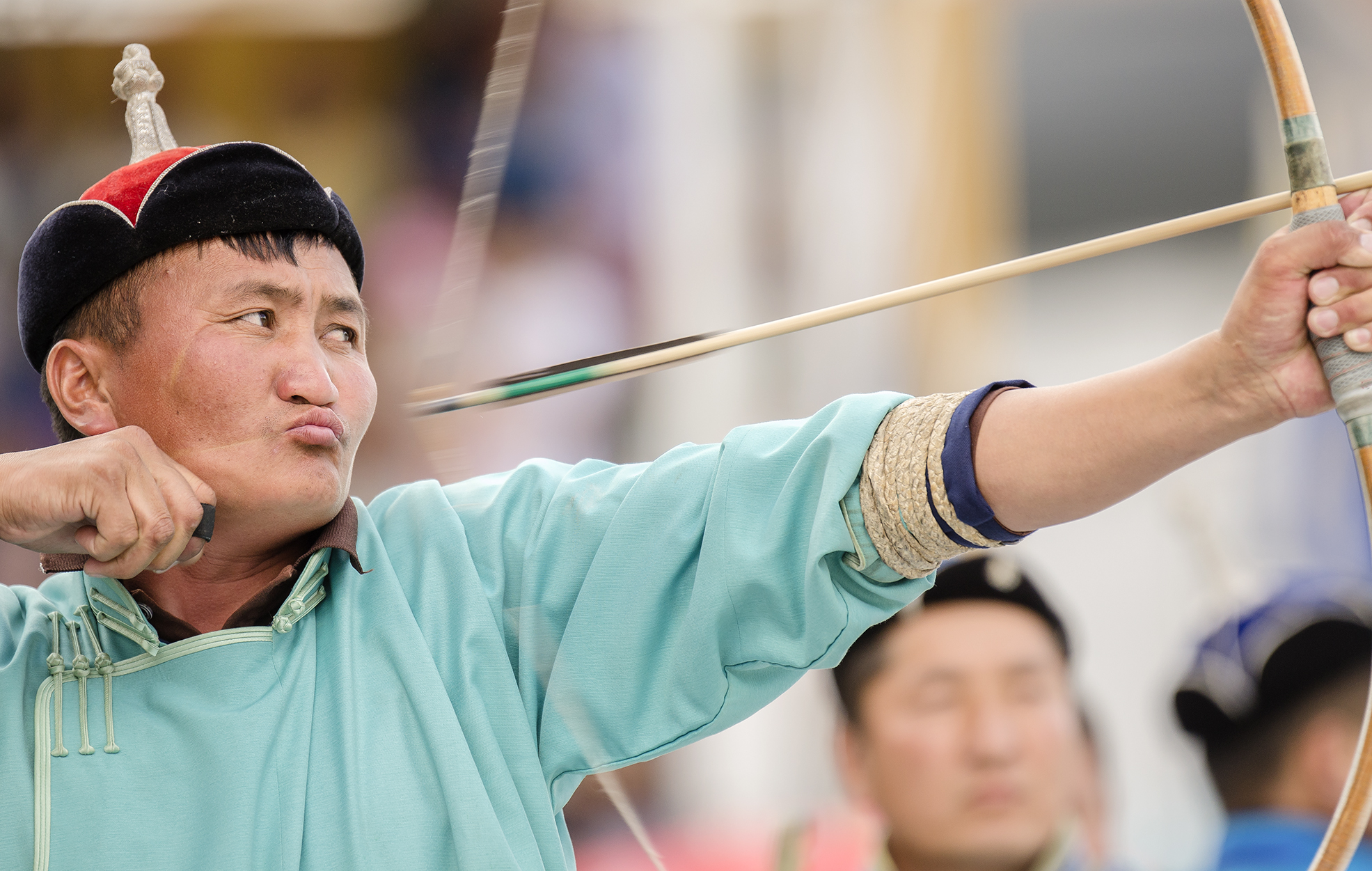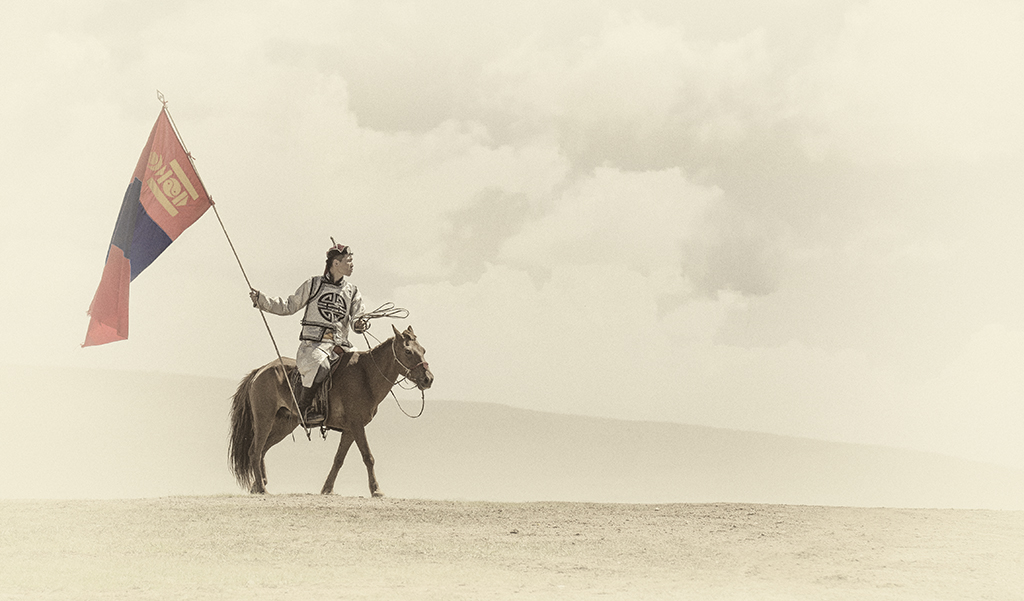 Itinerary
Day 1 - July 4. ARRIVAL DAY.
Travelers arrive on your different flights and be picked up at the airport and transferred to our hotel in downtown Ulaanbaatar
Accommodations at Hotel-9 in the city center
Day 2. July 5. TOUR OF THE CITY, INCLUDING THE GANDAN MONASTERY.
We will gather in the morning at 9am to enjoy a leisurely tour of Ulaanbaatar city. Today is a day to acclimate to the time change and give you a city tour of Ulaanbaatar.
This easy tour takes you through some of the principal sights of this unique city. You visit the Gandan Monastery, housing a 26 meter high gilded statue of the Buddha. Here you will be able to photograph the Monks as they go about their daily activities and photograph inside and around the temple.
While out taking photos we will work on such things as using natural light for portraits and taking street style photography of the locals and monks going about their daily lives and chores.
We can also visit the local cashmere outlets so you have a chance to take advantage of the very inexpensive cashmere prices in Mongolia.
After our excursion into Mongolian culture and history, we will gather back at the hotel and discuss the weeks activities. Now is a chance to find out your expectations of the week and give you the itinerary for the workshop.
At night we have arranged for the group to go visit a local musical performance including throat singing and Mongolian contortionists.
Overnight at Hotel-9 (excellent, 3* hotel in the city centre). Breakfast and Dinner at hotel included.
Day 3-6. July 6-9. ULAANBAATAR - BAYAN-OGLI.
Day three we will travel day to Bayan-Ogli (flight MO-97 scheduled to leave Ulaanbaatar at 06.20am and arrive in Ulgii at 08.20 local time: flight times TBA), the western most province of Mongolia.
We will get picked up at the airport and transported to our accommodations with a local family, our hosts the the next two nights. Here, you will immerse yourself in the Kazakh traditions and live and sleep in our own Ger tents with a nomadic family.
During our time here we will live in a valley surrounded by mountains, the fields dotted with sheep, yak, horses, and local families that will invite you into their homes, engage in conversation with us and allow us to take photos of them as they live as they did for generations.
We will also have four private photo shoots with traditional eagle hunters in mountain settings as they put their eagles and horses through their traditional hunting practice.
You will witness eagles flying from mountains and landing on eagle hunters arms as they ride on horseback. You will photograph eagles hunting prey and be able to photograph these hunters running and riding horses with the eagles on their arms. This truly is a once in a lifetime experience.
Included in these 4 days are your meals, shared accommodation in Ger tents, (Men in one Ger tent, women in another)
DAY 7. JULY 10. BAYAN ULGII – ULAANBAATAR.
Take the return flight from Ulgii to Ulaanbaatar (MO-98 scheduled to leave Ulgii at 08.20 local time and arrive in Ulaanbaatar at 12.20pm; exact flight times TBA), upon arrival transfer to a restaurant for lunch.
After lunch we will visit the Naadam Festival fields to photograph some of the sporting events such as horse races, archery and ankle bone shooting competitions.
Hotel-9. Breakfast, Lunch and dinner are included.
DAY 8 - JULY 11. NAADAM IN ULAANBAATAR.
Today we will enjoy a full day at the Naadam Festivals activities such as wrestling, more archery competitions and horse races. There will also be thousands of local dressed traditionally as well as lots of music and dances around the Naadam fields.
You may also want to photograph the Naadam fireworks at the Central Square at night at around 10pm. This is the largest and most intense fireworks display I have ever seen. The fireworks are just steps away from our hotel. You will be positioned to photograph the fireworks above the main square and the parliament buildings.
Hotel-9. Breakfast, Lunch and dinner are included.
DAY 9 - JUL 12. ULAANBAATAR TO HUSTAI NATIONAL PARK
This morning we drive to Hustai national park in the early morning for a photo shoot with 2 traditionally dressed models. Today is a full day photo shooting in the Mongolian countryside with our models. One of our models will be dressed in traditional 13th Century Queens costume and the other dressed in Ghengis Khan military uniform.
Today we will also go deeper into the park to photograph the rare, wild herds of the Przewalski's horse at Hustai National Park. Other species that are seen are Elk and wolves and prairie dogs.
At night, if the skies co-operate we will see the milky way over the hills in the very dark skies of Hustai. You will have an opportunity to try to photograph the milky way, or try your hand at photographing star trails.
Meals and overnight at Hustai National Park
DAY 10- JUL 13. HUSTAI NATIONAL PARKTO ULAANBAATAR
After an early morning safari to go photograph the horses and wildlife, we will depart Hustai and travel through many small villages and sprawling countryside that is framed by endless skies and distant mountains.
Today you will have the opportunity to see farmers working in their fields, cashmere being prepared for transport and numerous horse farms. You will also get your first introduction to many of the eagles and hawks that inhabit the countryside.
Accommodation at Munkhtenger-2 camp in the Bogd Khan National Park near the airport. Breakfast, lunch and dinner included.
Day 11- July 14. DEPART FROM ULAANBAATAR, MONGOLIA.
Airport transfers will be provided to you in the morning/afternoon.
Breakfast included.
Are you ready for one of the most photogenic tours you will ever do? Click on the button below to contact us and we will see you in Mongolia