Join Andy Williams and Kevin Pepper in China for amazing landscapes and cultural photography on this 14 day China photography workshop. We've crafted our itinerary to capture some of the very best of China, and made our group size small and manageable, only eight guests and two pros! From the big city to the small towns, from the Great Wall to the Yellow Mountains, we'll arrange for incredible photographic opportunities each and every day. Accommodations are in 4-star lodgings, and we will have our own private ground transportation while we're on the road. We'll cover a lot of ground over 14 days, from Beijing to Huangshan to Hangzhou to Xian to Guilin and finally ending in Shanghai. Included are four domestic flights to move us around this large country! Everything is all-inclusive—all lodging, meals, transportation, photographic guiding and instruction and our English-speaking tour guide.
Ready for an exclusive and amazing adventure in the Far East, with a very small group of photographers? Read on and then click the Sign Me Up button to join us!
BOOK NOW and save $1,000 by registering early. Valid until November 15, 2016.
Price: $12,995USD
Deposit: Your deposit of $4,000 USD will secure your place in this workshop. The balance of $6,995 USD is due by February 1, 2018. All of our standard terms and conditions apply. If you need to make payment arrangements, no problem, just ask us
Number of Attendees on this trip: 8 participants
Instructors: Andy Williams and Kevin Pepper
What's Included
All meals and transportation during the workshop
Internal flights in China
Photographic guiding and instruction from Andy adn Kevin
English speaking guide
Fun, inspiration and a great time!
What's Not Included?
International air travel to Beijing and from Shanghai. Travel Medical and Trip Cancellation Insurance. Passport and visa fees, if any. Alcoholic beverages and any items of a personal nature. Anything not specifically listed as included.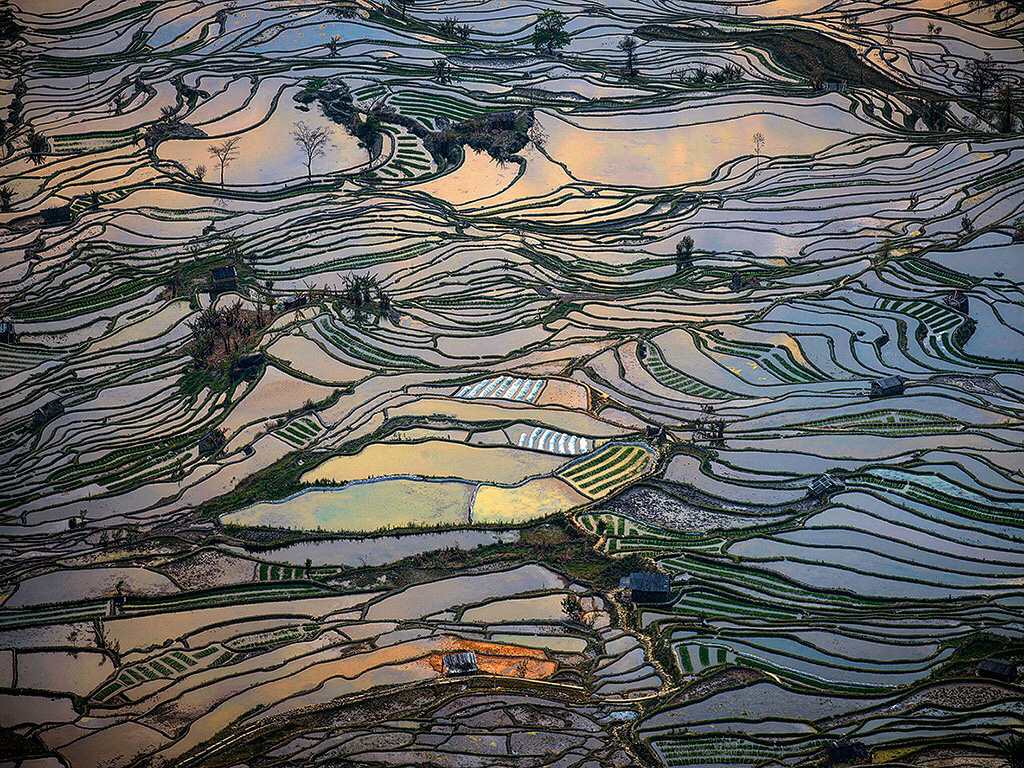 Images on this page courtesy of Ed Cooley.
Itinerary
(This itinerary is meant as a general guide, and it can change based on weather, local conditions, and decisions made by your leaders).
May 17, 2018: Arrivals at Beijing Capital Airport. We will transfer you to our Beijing city center hotel, and we will meet in hotel lobby at 5:00 pm for introductions and then we will head out for a group welcome dinner.
May 18, 2018: In the morning, we visit the Temple of Heaven, an imperial sacrificial altar built during the Ming dynasty. The highlight is the Hall of Prayer for Good Harvests. Built without a single nail, the Hall is where emperors once prayed for a good harvest, making offerings of grain, silk and animals.
In the afternoon, we photograph around Tiananmen Square, the largest public square in the world and the symbolic center for all of China. At the south end of the Square is the late Chairman Mao's mausoleum, on the east side is the Museum of Chinese Revolution and History, and to the west is the Great Hall of the People. We will then visit and photograph the magnificent Forbidden City, directly north of the Square. Forbidden City was the imperial palace during the Ming and Qing dynasties for five hundreds years, twenty-four emperors have lived here. We will have an opportunity for a city-wide panorama photo from Jingshan Park.
May 19, 2018: We visit the Summer Palace, a summer retreat built by the Qing emperors. The Empress Dowager Cixi rebuilt the park in 1873. Amongst the additions is the infamous marble boat, permanently located on the bank of Kunming Lake. Other attractions of note include the Hall of Jade Ripples, where Cixi confined the legal heir to the throne during her reign; the Long Corridor, a 700m long corridor lined by individually painted red columns; and the Pavilion of the Fragrance of Buddha, from where there are sweeping views of the Palace, the Lake and beyond. Afterwards, we will have lunch at a photogenic imperial style restaurant with Qing Dynasty Traditional Costume by the Summer Palace.

After lunch, we will drive to a part of The Great Wall at Jinshanling. More than 2,500 years old, the Chinese built this impressive fortification to protect their civilization from the unruly northern tribes. We will have a sunset and a sunrise photo shoot here at the Great Wall.
May 20, 2018: After sunrise photo shoot at The Great Wall, we drive Beijing Capital Airport to fly to Huangshan in the late afternoon.
Huangshan, which means Yellow Mountain, has been a well-known destination for scholars, poets and the occasional recluse, all seeking personal inspiration and enlightenment – when you visit you will easily appreciate why. Situated in the southern portion of the agriculturally rich Anhui Province and bordering Jiangxi and Zhejiang provinces, the picturesque Yellow Mountains have long been described as "awesome," "a wonderland" and "Heaven on Earth." The formation of the remarkable peaks and breathtakingly sharp precipices has been attributed to the many thousands of years of geological activity on the imposing granite mountains, creating the astounding natural wonder visible today.
May 21, 2018: After breakfast, we'll drive to Hongcun, a UNESCO World Heritage Site housing typical South Anhui architecture (one of the most photogenic villages in China). The town is built along the banks of Nan Lake -- a fine place for photographs of its traditional architecture. After lunch, we then drive to reach the foothills of Huangshan. We photograph the tea plantation en route. We will ascend the eastern side of Huangshan by cable car, and then walk on well-paved stairs and photograph Beginning-to-Believe Peak en route to our hotel and check in. We will stay at the hotel on top of the Yellow Mountains.
May 22-23, 2018: Early morning, we walk 20 minutes on well-paved stairs to Stone Monkey Watching Over the Sea for sunrise. Afterwards, we walk 25 minutes on well-paved stairs to Beginning-to-Believe Peak for morning side light shooting. We then have breakfast and some downtime. In the afternoon, we walk 30 minutes on well-paved stairs to Cloud Disappearing Pavilion for sunset.
May 24, 2018: After morning photo shoot and breakfast, we descend the mountain by cable car, and drive to Hangzhou, and fly from Hangzhou to Xi'an. Xi'an, has over 3,000 years of recorded history and was the capital of 12 dynasties, though it has been known as various names, most notably as Chang'an. It was also the starting point of the Silk Road, where camels were loaded for their long and perilous journey to Central Asia. Xi'an has recently become an important center for the central government's drive to develop western China.
May 25, 2018: In the morning, we visit and photograph the Terracotta Army, created to guard the tomb of Qin Shihuang, the first emperor to unite China. One of the most remarkable archaeological discoveries of all times, the Terracotta Army is designated a UNESCO World Heritage Site. We will have plenty of time to photograph and admire this vast array of soldiers.
After lunch at a local Muslim restaurant, we enter the Great Mosque before the local Muslim praying time. We then walk around the Muslim quarter, where we find a way of life that derives as much from the ancient cultures of Central Asia as it does from China. For over 1,300 years, Muslims have been an integral part of the colorful daily life of Xi'an. Afterwards, we drive back to our hotel to walk around and photograph the art gallery area nearby.
May 26, 2018: Today, we fly to Guilin. One of the photographic highlights will be a panoramic view of the Karst Mountains.
May 27, 2018: This morning, we will take a private boat ride down the Li River, which is considered by many as one of the most beautiful rivers in China. Cruising along the river, you may feel as though you are idling along a corridor of landscape paintings of limestone pinnacles set against terraced rice fields and picturesque villages.
We start today early, before dawn, we get to the spot to photograph a beautiful sunrise. Here we will have an opportunity to photograph the famous cormorant fisherman, in traditional dress, with gas lamp and bamboo raft.
After sunrise shooting, we visit Xingping, an ancient town near Yangshuo. As we sit on the deck of the boat, it will seem as if we are viewing one scroll painting after another. This is territory that has inspired Chinese artists of all sorts for thousands of years. We will have our prepared breakfast at a little restaurant and walk around Xingping Town. Over thousands of years, Xingping remains its Ming (1368-1644 AD) and Qing Dynasty (1644-1911 AD) style old architectures and the original town layout. At the dock, you can get a picture for the immortal scenery that can be seen on the back of the Chinese RMB 20 notes.
As we drive from Xingping to Yangshuo, we will stop at Fuli Fishing Town for the photogenic local market. On this road, we can see all kinds of orchards and fields: sugarcane, rice, mandarin orange, grapefruit, orange, mango, etc. And you can photograph en route. In the late afternoon, we photograph the sunset at Putao, one of the best remaining spots for a nice picture of water and the Karst Mountains.
May 28, 2018: At sunrise, we have another photo session with the cormorant fishermen. We photograph sunset on top of another mountain (20-30 minutes walk up) for panoramic pictures over the Karst Mountain.
May 29, 2018: We photograph sunrise at a bridge near Yangshuo. After breakfast, we fly back to Shanghai. We will photograph a Shanghai landmark – the Bund, at twilight and evening. We'll have a final dinner and celebration of an amazing two week photographic journey in China.
May 30, 2018: Flights home or elsewhere any time this day.
Additional Information
The Muench workshops fill very fast, so if you have been thinking about photographing in China, don't delay, register now by clicking the "Contact Us!" button below. We'll see you in China!